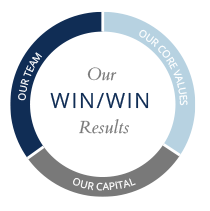 Our Core Values
Integrity
To do the right thing.
Stewardship
To serve our stakeholders, including our capital providers, our portfolio companies, business owners, our co-investors, our advisors and our value-added intermediaries.
Excellence
To be the best in our category and to learn continuously.
Teamwork
To have a culture of ownership, shared vision, mutual sacrifice and accountability.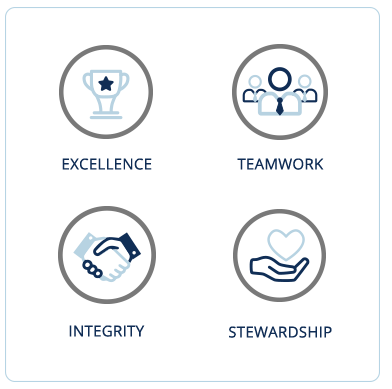 Our Capital
Dos Rios has two unusual types of fund-level capital:
Private Investors
Private Investors have entrusted us with patient, long-term capital. Also, as fund managers, we personally have committed a material portion of this capital.
SBIC Capital
The Small Business Administration (SBA) has selected Dos Rios to be one of the few Small Business Investment Companies (SBICs) in our region. As an SBIC, we are entitled to access unusually flexible, long-term, low-cost capital, subject to investing in qualified small businesses.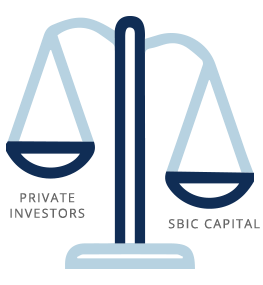 Our Team
1. Deep Experience
-
+
Our team has:
117 years of relevant experience
World-class big-company experience
Experience as C-level executives
Private equity experience
Diverse and complementary:

Transaction experience
Industrial experience and skills
2. Senior Attention
-
+
Four Partners is an unusually large number of partners for a fund of our size. Our high Partner/Capital ratio enables our senior Partners to focus on an unusually small number of small-business investments and to give those small businesses the senior attention that they deserve.
3. Strategic Focus
-
+
We focus intensely on a particular niche of the small business market. We describe this niche in detail in
Our Investment Criteria
. However, we want to emphasize one particular criterion here: We focus on companies that are proven and established but that also have the opportunity to move to a higher level of profitability and growth. We regard ourselves as experts in helping these companies move to that higher level.
4. Financial Flexibility
-
+
Our investment approach is NOT "one-size-fits-all". As a result, we are not, per se, a "mezzanine" fund or a "buyout" fund or a "growth capital" fund. Rather, we try to understand a small business' needs and then customize a solution that will meet those needs. Thus, our investments may be:
Equity, debt, or some combination
Control or non-control
As a result, we are unusually well positioned to meet the needs of a small business and its owners.
5. Operational Value-Added
-
+
We are not primarily "financiers", nor are we "ivory-tower" consultants. Rather, we are primarily engaged, collaborative, hard-working, value-adding business partners.
6. Collegiality
-
+
We strive to be collegial, down-to-earth partners and teammates. We try to be good listeners and good problem solvers, sensitive to small business' needs and who work diligently, creatively and resourcefully to find win/win solutions that will meet those needs.
7. Geographic Presence
-
+
We've been here for years. Each of us has been involved with businesses that have operations located all over the world. However, each of us also has lived most of our respective lives in the Six-State Region. We also have worked and/or invested in various local sub-regions. As a result, we understand the Six-State region, its culture and its various sub-cultures. We're here now, and we're not far from you. Also, "we're here", in the Six-State region. More specifically, we are uniquely located in three major metropolitan areas within the region, including (effectively) five of the sixteen largest cities in the United States and the five largest cities in the Six-State Region. These base locations place us within easy striking distance of every major city and town in the Six-State Region. This gives us an unusual degree of proximity for those who value having a partner nearby.
Our Results
Rewards for Value-Added Intermediaries
We estimate that our region has 66,000 appropriately sized small businesses. However, most will have a significant junior capital need only once in a generation. As a result, we do not attempt to call upon every single company. Rather, we call on companies selectively and then work closely with value-added deal sources--business brokers, boutique investment banks, fundless sponsors, etc--to identify other opportunities. We have found that these deal sources appreciate our approach. Where appropriate, we reward them for their help.
Rewards for Small Businesses
We use our patient, flexible capital to create win/win capital solutions for small businesses. We then draw on our managerial experience to help produce win/win operating solutions for small businesses.
Rewards for Management Teams
We place managers in a position to create material wealth for themselves, to the extent that they and we are successful.
Excellent Returns on Investment
When we do all of the above, we produce excellent returns on capital for both our investors and ourselves.